Turnout figures for recent L.A. city elections show people aren't naturally excited about local politics. It's always worth noting that the choices voters make in these "small" elections are crucial because local government can affect people's lives in bigger ways than state or federal government does.
L.A. needs outside voices in City Hall, so give all of the candidates a look. Candidate lists are available at http://clerk.lacity.org/elections/candidates, and fundraising information and links to candidates' campaign literature is at https://ethics.lacity.org/campaignfinance.cfm.
"Let us take back our city and make it Los Angeles governed by the people for the people"



YJ Draiman for Mayor of Los Angeles - 2017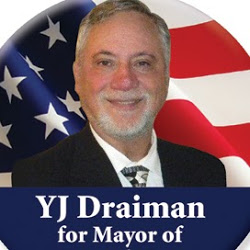 Los Angeles 2017

YJ Draiman believes in principles and integrity over profit and personal gain
http://www.economicsustainability.net
www.draimanformayor.com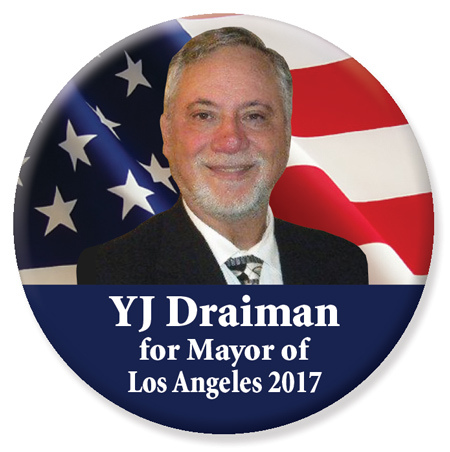 http://ethics.lacity.org/disclosure/campaign/totals/public_contacts.cfm?election_id=53&viewtype=pf&city=LA&elecpreview=no#8235
City Events Calendar
Los Angeles City Clerk's Office
Election Division
Piper Technical Center
555 Ramirez Street
Space 300
Los Angeles, CA 90012
Phone (213) 978-0444
Fax: (213) 978-0376
http://cityclerk.lacity.org/election/
How to qualify to be a candidate on the Los Angeles City ballot
Information about the City initiative process
Other questions about the City's Elections Code
Los Angeles County Registrar-Recorder
Campaign Reporting Unit
12400 Imperial Highway
Norwalk, CA 90650
Phone (562) 462-2339
Fax (562) 651-2548
http://regrec.co.la.ca.us
Candidate campaign disclosure statements for County Supervisors, District Attorney, Community College Board of Trustees, and other statewide candidates.
California Fair Political Practices Commission
428 J Street, Suite 620
Sacramento, CA 95814
Phone (Toll Free) 1-866-ASK-FPPC (866-275-3772)
Fax (916) 327-2026
http://www.fppc.ca.gov
Information about state campaign finance, lobbying and ethics laws
Advice about the Political Reform Act of 1974
Technical assistance for completing state campaign and financial disclosure forms
Report allegations about violations of state campaign finance, ethics, and lobbying laws
California Secretary of State
Political Reform Division
P.O. Box 1467 (95812-1467)
1500 11th Street, Room 495
Sacramento, CA 95814
Phone (916) 653-6224
Fax (916) 653-5045
http://www.ss.ca.gov
On-line search of state candidates' campaign fundraising and expenditure activities
Copies of campaign disclosure statements for all state candidates and state ballot measures
State elections and voter information
How to obtain campaign Committee Identification Numbers
How to terminate a committee
California Office of the Attorney General
Phone (800) 952-5225
http://www.caag.state.ca.us
Information about California's open meetings laws ("The Brown Act")
How to avoid conflicts of interest when acting on government contracts (California Government Code Section 1090)
California State Franchise Tax Board
Phone (800) 338-0505
http://www.ftb.ca.gov
Information about a political committee's tax status
Contributions to tax deductible organizations
Other state tax-related questions
Federal Elections Commission
999 E Street, NW
Washington D.C. 20463
Phone (800) 424-9530
http://www.fec.gov
Campaign laws, public matching funds, and disclosure statements for federal candidates
Laws regarding political contributions from national banks and national corporations
Laws regarding political contributions from foreign nationals
U.S. Office of Government Ethics
Phone (202) 208-8000
http://www.usoge.gov
Federal Conflict of Interest laws and Standards of Conduct for Executive Branch employees
U.S. House of Representatives
Office of the Clerk of the House
Office of Records and Registration
Phone (202) 225-1300
http://clerkweb.house.gov/lrc/pd/lobby/lobby.cfm
Federal lobbying registrations and reports
United States Internal Revenue Service
Phone (800) 829-1040
http://www.irs.ustreas.gov
Any federal tax-related questions